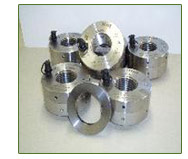 The EziTite Hydraulic Nut is a precision engineered, high pressure, high performance, hydraulically operated bolt tensioning device that can be quickly and easily fitted and used with Technofast pumping equipment (eg. Hand Pumps, Electric / Hydraulic or Air / Hydraulic).

It is manufactured in a choice of steel or stainless steel of tensile strength to suit the required application.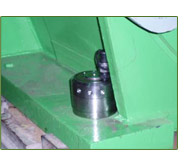 Advantages of using EziTite Hydraulic Nuts:
The unique design of the has given it improved technical efficiency of operation and cost/benefit advantages over other tensioning devices. The EziTite provides advantages such as:

Reduces maintenance down time.
Improves safety on the job.
Gives reliable and precise tensioning.
Is user-friendly.
Fast to fit and remove.
Requires little physical effort.
Is ideal for difficult or confined spaces
The EziTite Hydraulic Nut is suitable for use where:
Accurate and reliable loading is required on bolting.
Vibrational or torsional stresses are a problem.
Regular maintenance requires repeated adjustment or removal of nuts.
There are confined and difficult nut locations.

How it works:

The EziTite Hydraulic Nut assembly is screwed by hand onto the bolt (replacing the original nut) until the base is tight against the working face. Hydraulic pressure is then applied through the nipple fitting on top of the nut body into the sealed chamber, forcing the piston and the nut body apart, thus stretching and tensioning the bolt through the joint.

The threaded lockring, mounted on the nut body, is then screwed against the abutting face to retain the induced load in the bolt. The pressure is then simply released and the hydraulic coupling removed from the nipple fitting, to complete the operation.
Click here to view a presentation of how it works and examples of applications.
To view a video of How the EziTite Hydraulic Nuts work click here.
Examples of Applications: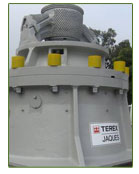 Dragline: Pivot Motors, Pedestal Housing, Drag Motors, Hoist Motors
Wash Plants: Vibrating Screens
Quarries: Crusher Shells and Jaws
Steel Mills and Recyclers: Shredders
Shovels: Side Frame Bolts, Motor Mounts, Boom Sheave Pedestals
Heavy Industry: Flanges
For further information, please refer to the
EziTite Hydraulic Nut Brochure