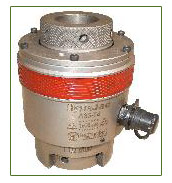 Description
The A3 Modular EziJac Stud Tensioner provides accurate and versatile tensioning of bolts and studs whilst being fast, simple and safe to use. The EziJac utelises a loadcell with an adapter kit so as the one tool can be used for a range of stud size whilst only having to change the adapter kit.
The EziJac uses hydraulic pressure to tension the bolt to the exact load required. Once the application has been tensioned, the nut is wound down the thread to retain the load. The EziJac is then de-pressurised, released and ready to use again.
Any number of EziJac can be interlinked to provide even amounts of simultaneous tension over multiple studs or bolts as required.
Produced from high strength alloy steel, EziJac Stud Tensioners are made in standard configurations. They can also be made to suit the requirements of a specific application.
Features
Although smaller and lighter than many competitive types, EziJac Stud Tensioners are capable of high application forces. The higher forces generated by EziJac devices permit their use with bolts of very high tensile strength, for example, in bolting of highly stresses assemblies or those prone to destructive vibration.
A3 EziJac can come with spring return or manual return feature. when purchased with the spring return feature there is very little physical effort required to do the job at hand.
EziJac are designed for durability and manufactured with ease of servicing, with readily available spare parts.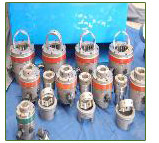 The EziJac provides the following advantages:
Reduces maintenance down time.

Improves safety on the job by eliminating hammer tightening.

Gives reliable and precise tensioning

Is user friendly - fast to fit and remove.
Requires little physical effort.
Is ideal for confined spaces or difficult locations.
Multiple tensioning for leak-free flange makeup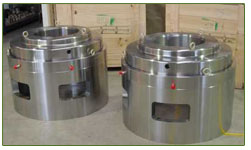 As well as the standard range of A3 EziJac specials EziJac can be designed to suit your requirements such as the M460 EziJac shown below designed for a forging press.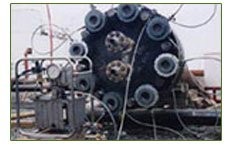 Applications include:
Mining and Quarrying
Marine
Power Generation
Agricultural
Structural
Heavy Equipment in general industry
Chemical Plants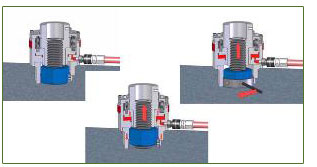 The above drawings show the EziJac being pressurised therefor stretching the stud then the nut rotator being wound down with the nut and tensioning the stud. the pressure is then released and the spring packs where provide return the tool to the home position and the tool is the ready for service.
Click here
to view a brochure for the
A3 EziJac.