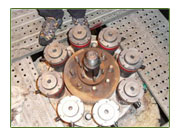 Many Technofast product users have wished to extend the benefits of EziJac Tensioning Systems across more applications, but have been restricted by bolts which do not have sufficient stud protrusion through the nut to apply these tools. There are many instances where stud replacement is not an option, or where stud protrusion is undesirable.

Technofast's revolutionary CamNut EziJac system brings an affordable and efficient solution to this problem, in a compact system which is simple, safe and easy to use.

Normally, a Bolt Tensioning tool pulls on the bolt threads protruding above the regular hex nut, which is then screwed down to retain the loads induced by hydraulic operation of the tool. With no available thread, the CamNut performs as the connection to the bolt for the operation. Its integral collar expands to take up the bolt's elongation under force and retains the load when the hydraulic charging pressure is released.


Features

The patented design of the CamNut is inexpensive and has the following advantages:

User friendly, fast to fit & remove.
Requires little physical effort.
Ideal for situations with short bolt grip length.
Modular construction reduces overall tool weight.
Designed for extreme situations / adverse conditions.
No longer need to replace expensive studs to provide sufficient grip length.
Suitable for:
The CamNut is suitable:
When accurate and reliable loading is required.
When confined spaces are an issue, including restricted bolt spacing.
Where environmental issues are a concern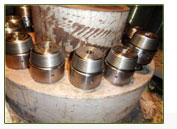 Applications:

A few examples of applications are:

Pressure Vessel Closure (i.e.: Autoclaves, Boilers, etc).
Crusher Liner Bolts.
Flange Makeup
Turbine Joints
Click here
to download a data sheet for this product.