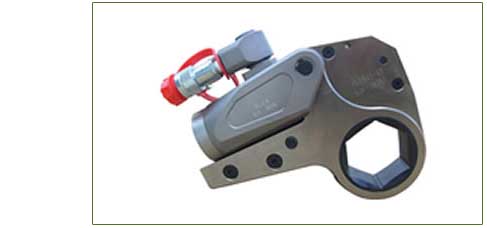 Overcome height restriction problems associated with flange bolting
Aware of the difficulties associated with flange bolting, the new Christie LOW profile wrenches have an open hexagon to fit directly onto the nut or bolt head. This tooling is ideal for use on applications with limited overhead access or with fasteners having excessive thread protrusion.
The advanced design means the Christie LOW wrenches are both easy to handle and position due to the light Titanium alloy construction, reversible ratchet system, and swivel 360 degree connections. To make life even simpler and reduce costs, the use of hexagon reducing sleeves can make each hexagon head versatile for a range of smaller fasteners. Where larger hexagon sizes are necessary, the easy-change, detachable head, requires no additional tooling and therefore minimises downtime.
Christie LOW hydraulic torque tools are individually calibrated and supplied with supporting certification, unlike many manufacturers who simply supply generic torque data. Individual calibration provides complete confidence and safety in bolt tightening.
With its low profile design and 3% torque accuracy, the LOW Series is the perfect partner for use on flanges, including ASME/ANSI.
LOW Series technical specifications & brochure download
>>