Impact Sockets & Accessories +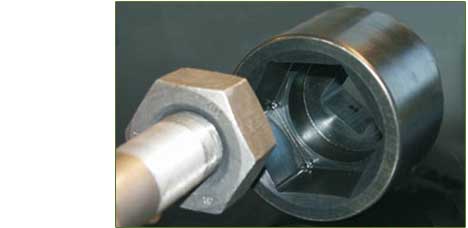 Tooling is only as accurate as the quality and fit of the socket allows.
A socket is the only means of transferring power from tool to bolt, but no matter how accurate or expensive the tooling if the socket is not of the correct specification then the equipment powering the socket is rendered ineffective. Be careful whose sockets you buy - unless sockets are manufactured from the correct material and designed to withstand the torque generated from the new breed of powerful industrial torque tools, they are likely to shatter.
W. Christie understands the benefits of a single source supply to save time and money by removing the need to shop around for individual items to undertake bolting jobs. Unlike most tooling suppliers, Christie hold stock of accessories as well as tooling.
Our standard and long length socket range starts as low as 1/4" square drive and spans increments up to and including 3 1/2" square drive, incorporating both imperial and metric across flats sizes. Single hexagon output sockets with relieved corners are the most common however, bi-hexagon, surface drive, square and torx options are only a small sample of the choice you have.
Impact accessories are an extremely popular addition to the Christie range - square to square drive adapters, reducing sleeves, extension bars, and holders with removable male hexagon allen key bits are also available for delivery the next working day.
Wanting something non standard? Not a problem - send Christie a sketch of your requirements and we will supply one off specials constructed to stringent tolerances, boasting extreme durability and meeting the delivery time you specify - you don't have to wait to get what you want!