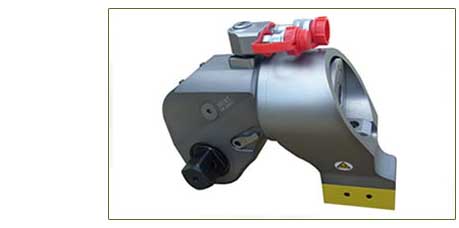 Where lightweight tooling is paramount.
When robust and lightweight performance is important, the IBT Series of Titanium alloy hydraulic torque wrenches pack a powerful punch, whilst being easy to handle.
The versatility of the IBT makes it the ideal general purpose and maintenance tool. A detachable square drive allows the fitting of interchangeable direct fit outputs, including impact sockets, and male hexagonal Allen drives for the safe tightening and loosening of socket head cap screws. The 360 degree splined reaction, square drive anti-reverse ratchet, and 360 degree swivel connection, increases the flexibility of the IBT tool.
Christie IBT hydraulic torque tools are individually calibrated and supplied with supporting certification, unlike many manufacturers who simply supply generic torque data. Individual calibration provides complete assurance and safety in bolt tightening.
The Christie IBT tooling, with 3% torque accuracy, allows bolting jobs to be carried out with complete confidence.
IBT technical specifications & brochure download
>>