Single Coupling


The new WEBER-HYDRAULIK SINGLE coupling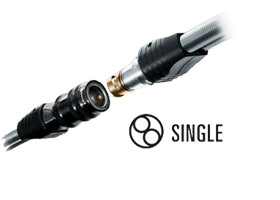 The new WEBER-HYDRAULIK SINGLE coupling binds
with just one movement your rescue equipment
while in operation with the aggregate


Coaxial coupling with a bayonet end

ISimple operation also with protective gloves

Coupling of the two lines with just one movement

Coupled freely rotatable 360°

Coupling also possible with pending pressure

Can be retrofitted onto all two hose systems

Advantages of a two hose system remain unaffected
- large hose cross section for maximum outflow and high speed of the rescue equipment
- Pressure spikes e.g. with cutting can be easily intercepted
The job is difficult enough; therefore the use of specialist equipment should be simple.
The new WEBER-HYDRAULIK SINGLE coupling makes the work with rescue equipment even quicker and less complicated.


Together with other leading manufacturers, we have developed a new coaxial coupling system for dual hose systems which makes it possible to couple the previously separated line connections with just one movement.

We therefore combine all the advantages of a two hose system (i.e., hose cross section, maximum discharge, and the interception of pressure spikes) with the optimised use of the single coupling.

The WEBER-HYDRAULIK SINGLE coupling is a coupled condition free design and can be turned 360° and through the bayonet end can also be quickly and safely operated with protective gloves. All existing two hose system can be simply retrofitted with the new coupling standard in order to ensure a completely compatible full system.