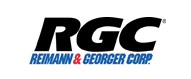 For over 50 years, RGC® (Riemann and Georger Corp.) has been manufacturing quality construction products and equipment. Beginning with platform and swing hoists, RGC has continued to introduce revolutionary products which now include a full line of hydraulic tools.
RGC is one of the largest manufacturers of hydraulic tools and power units used in the construction industry. Innovative hydraulic tools such as the C-150 chain saw - with a diamond segmented chain - are powered by RGC's own compact and portable HydraPak power units. RGC circular and chain saws are unmatched in versatility and ease of operation for sawing through concrete , reinforced concrete, masonry, other aggregates, stone, block and pipe. A complete line of saws, breakers, drills, post pullers and impact wrenches makes RGC the tools of choice.


The Hydraulic Experts...
RGC Hydrabreakers and Core Drills offer light, yet powerful and efficient use of hydraulic power, for all types of construction applications. Reduced noise and exhaust make hydraulic tools the ideal product for interior structure remodeling within occupied schools, offices or industrial buildings. Wood saws, pruners and various post pullers are aimed at outside grounds maintenance and utility firm applications.
HYDRACUTTER C150TM
Introduced as the industry's first concrete cutting chain saw, the RGC HydraCutter C150TM has been the best performing tool in its class.
This rugged, versatile tool cuts clean, fast, precise, and straight through concrete, reinforced concrete, masonry stone, and other aggregates. It is the tool of choice for virtually every cutting situation.
FEATURES

Makes plunge, bottom, notch, trim, and corner cuts with no overcutting.

Choice of 3 chain types to meet specific cutting needs.

Diamond Cutting Segments are laser welded to high carbon steel chains.

Optional 15 inch or 20 inch cutting depth.

Dual function trigger stops tool and water flow when released for operator safety.

Lightweight, ergonomic design with cushioned handles and balanced weight distribution enhances
precision cutting with minimal force, reducing operator fatigue.

Water pressure gauge allows for constant monitoring of appropriate pressure.

Roller Nose Sprocket allows maximum chain and bar life.

Water flow system delivers maximum lubrication, cooling, and abrasion flushing through seven internal
bar channels.

Tapered bar design transmits increased power to the nose, reducing chain wear during plunge cuts.

Hydraulically powered In-Line pump for adequate water supply available.