Hydrabreakers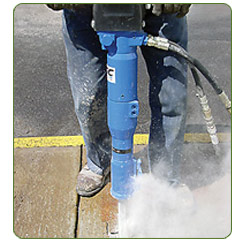 RGC HydraBreakers provide greater impact force and a higher performance to weight ratio than the competitions' breakers. All models operate at a higher class rating than their actual weight indicates and most models come with vibration-dampening handles.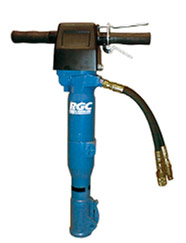 Features of Hydrabreakers

Higher performance-to-weight ratio than other hydraulic and pneumatic
breakers.

Lighter weight and more portable than pneumatic systems

Continuous component lubrication reduces wear, minimizes
maintenance and extends product life.

Lightweight, rugged steel tube construction is lighter
than gas saws.

Absence of noise and dust producing exhaust delivers cleaner, quieter
and more efficient operation.

Operator fatigue reduced through less vibration.

Hose whips and moil points included.

Powered by an RGC HydraPak or other compatible power source.

Breakers available in 30 lb., 40 lb., 50 lb., 70 lb. and 90 lb. weight classes.

Contact the factory for assistance before running from excavation equipment